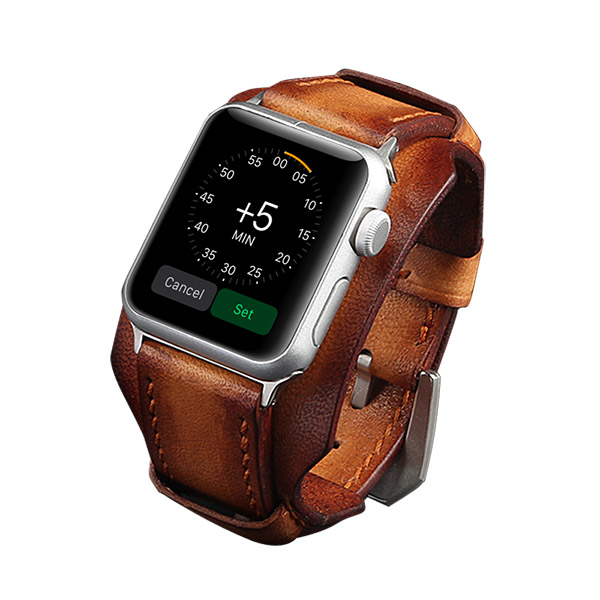 Luxury Premium Engraved Personalized Leather Apple Watch Band
£109.00 £119.00
This sensational luxury Apple Watch Strap, handmade entirely out of genuine cowhide leather, exudes glamorous elegance.
Perfect as a luxury gift to your special one.
Change the look of your Apple Watch with this ultimate luxury watch band to make it even more personal – give your timepiece a truly luxurious makeover.
Cuff can be removed
Engraving is on the outside of the strap, we do not limit engraving styles/fonts, as long as it is simple. You can even draw something, send it to us and we will engrave it on the strap.
Please note: Apple Watch NOT included, only Apple Watch Band. Natural leather may show natural blemishes such as range marks, scars, etc…
Description
Discover the zenith of refinement with our Apple Watch Strap, a tribute to the art of luxury craftsmanship. Each strap is hand-fashioned from genuine cowhide leather, selected for its superior quality and texture. The result is a product that doesn't merely accessorise a timepiece but transforms it into an emblem of glamour and elegance.
This strap is designed not just as a mere accessory but as a perfect expression of affection. It stands as an exemplary luxury gift, one that will convey the depth of your sentiment to someone truly special. Its luxurious allure makes it an ideal present for those who appreciate the finer things in life.
The versatility of the Apple Watch is one of its most celebrated features, and our luxury band is the perfect complement. It allows you to impart your own signature style upon your watch, offering a level of personalisation that turns an already exceptional device into something truly unique and personal.
Our design ethos ensures that the strap's aesthetic is matched by its practicality. The cuff is detachable, catering to those who desire a sleeker profile on some occasions while appreciating the full effect of the cuff on others.
The personalisation of this strap extends beyond its physical form. We offer an engraving service that allows you to make your mark on the outside of the strap. Whether it's a classic monogram, a few meaningful words, or even a simple drawing, our engraving service is designed to meet your desires without restriction, as long as the design remains simple.
To commission your bespoke engraving, simply convey your desired artwork to us. Our artisans will faithfully reproduce your design onto the leather, ensuring that your luxury Apple Watch Strap is an exclusive piece, as individual as you are.
Informations
Shipping
We currently offer free shipping for all UK orders.
Sizing
If your wrist is very large or small please let us know the size when you check out and we can tailor make one for you.
Return & exchange
If you are not satisfied with your purchase you can return it to us within 14 days for an exchange or refund. More info.
Assistance
Contact us on (+44) 1623 469 341, or email us at info@theLISL.co.uk
Specifications
| | |
| --- | --- |
| Apple Watch Size | 38mm/40mm/41mm, 42mm/44mm/45mm/Ultra |
| Engraving | No, Yes |
| brand | |
Make it even more unique by leaving a message , initials, a symbol or even your own writings on the band for you and your loved ones